FitLine Tonic
FitLine Skin Tonic
attīra ādu un nodrošina ilgstošu tās mitrināšanu, samazina sausuma un diskomforta sajūtu, atjauno ādas pH un fizioloģisko līdzsvaru, atjauno to un aizsargā no apkārtējās vides kaitīgās ietekmes. Sagatavo to turpmākai kopšanai. Āda kļūst intensīvi atsvaidzināta, mitrināta un dzidra.
Pateicoties aktīvo vielu sinerģijai un NTC® vielu transporta tehnoloģijai, aktīvās vielas tiek nogādātas šūnu līmenī ar augustu biopieejamību.
Dermatoloģiski testēts.
Augstākā izejvielu kvalitāte sinerģiskā kombinācijā.
Nesatur parafīnu.
Piemērots vegāniem, veģetāriešiem.
Mūsu produktu kvalitāti regulāri un neatkarīgi pārbauda ELAB Analytic GmbH.
Ekskluzīvs tikai PM-International.
Ražots Vācijā.
3 SOĻI MŪSU ĀDAS VESELĪBAI UN JAUNĪBAI
Attīram sejas ādu ar FitLine Cleansing Lotion & un atjaunojam ādas pH līdzsvaru ar FitLine Tonic.
Ādai sniedzam tonizējošo ādas enerģijas serumu FitLine Activize Serum.
Kā nobeiguma solis ir anti-age sejas krēms ar unikālu formulu FitLine 4ever.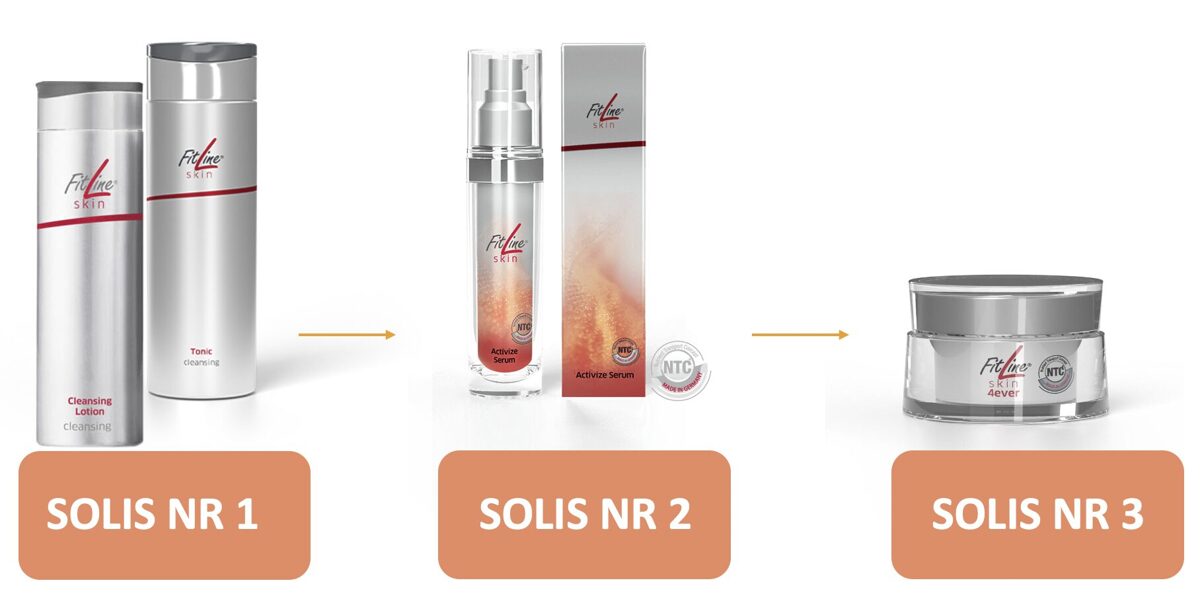 LIETOŠANA
: Pēc sejas, kakla, dekoltē ādas attīrīšanas kā nākamais solis ir sejas kopšana ar toniku. Vates plāksnīte kopā ar toniku - ar vieglām masāžas kustībām maigi tīra sejas ādu. Gan no rīta, gan vakarā.
TILPUMS: 200 ml.
SASTĀVS: Aqua (Water), Helianthus Annuus (Sunflower) Hybrid Oil, Isostearyl Alcohol, Butylene Glycol, Hydrogenated Polyisobutene, Undecane, Butylene Glycol Cocoate, Dicaprylyl Carbonate, Sodium Cocoyl Glutamate, Glycerin, Alcohol, Ananas Sativus (Pineapple) Fruit Juice, Chamonilla Recutita (Matricaria) Flower Extract, Heli-anthus Annuus (Sunflower) Seed Oil, Citrus Aurantium Dulcis (Orange) Peel Extract, Citrus Limon (Lemon) Peel Extract, Cucumis Melo Cantalupensis (Melon) Fruit Extract, Prunus Armeniaca (Apricot) Fruit Extract, Pyrus Malus (Apple) Fruit Extract, Santalum Album (Sandalwood) Wood Extract, Ananas Sativus (Pineapple) Fruit Exract, Cananga Odorata (Ylang Ylang) Flower Extract, Citrus Grandis (Grapefruit) Peel Extract, Cocos Nucifera (Coconut) Fruit Extract, Coffea Arabica (Coffee) Seed Extract, Cucumis Sativus (Cucumber) Fruit Extract, Passiflora Incarnata (Passion Flower) Fruit Extract, Rose Extract, Rubus Idaeus (Raspberry) Fruit Extract, Vanilla Planifolia Fruit Extract, Parfum, Tocopherol, Tridecane, Acrylates/C10-30 Alkyl Acrylate Cross-Polymer, Carbomer, Inulin Lauryl Carbamate, Caprylic/Capric Triglycerides, Ethylcellulose, Xanthan Gum, Hydroxyacetophenone, Phenoxyethanol, Triethanolamine, Hydroxycitronellal, Limonene.
CENA: 30.00 €